Summer Wiper Blades vs. Winter Wiper Blades
What's probably the most important component on modern cars, trucks, and SUVs that allows us to drive in inclement weather was invented by a person who didn't even have a driver's license. Those components are the windshield wipers.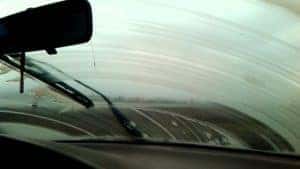 Back in 1902 Mary
Anderson was visiting New York City from her native Alabama. While riding in a trolley car on a snowy day she noticed that the driver had to continually stop the car and brush the accumulated snow off the windshield. This caused delays and made her think that there had to be an easier way. Back in Birmingham she designed an apparatus that used a blade to clear the windshield, submitted the design to the US Patent Office, and in 1903 was granted patent number 743,801 for her Window Cleaning Device.
Today's Modern Wiper Systems
The basic system described above has many modern variations and adaptations. They range from vehicles with a single wiper that operate in a W-shaped pattern, wipers that can be set to operate intermittently, wipers on the rear of certain vehicles, even wiper systems that sense rain and activate themselves. However all share in common Mary Anderson's rubber wiper blades.
As your wiper blades are always there, right in front of you as you drive, it is easy to forget that wipers are actually a safety feature of your vehicle. With worn wipers you could end up driving in heavy rain or snow, or are blinded by glare through dirty glass.
Wiper blades also have a finite service life, as they perform a hazardous duty in harsh conditions. Dirt, debris, and road grime abrade wipers, and sunlight breaks down their rubber edges. Beyond visibility, it is important not to wait too long to replace a blade, as a torn wiper blade can allow the wiper arm to rub against the glass, possibly scratching and ruining the windshield. Most automotive experts agree that wiper blades should be changed twice a year.
Summer Wiper Blades versus Winter Wiper Blades
Just like the clock changing back and forth in the spring and fall, this twice a year replacement of wiper blades comes at an opportune time for residents of Massachusetts. While summer blades feature an open of blade design, optimized to work under normal conditions, winter wiper blades are the ticket for cold, snowy, and icy New England winters. Winter Blades are specially designed, ruggedly constructed, and fitted with a synthetic-blended covering that is infinitely flexible and protects critical wiper components from ice and snow. The blade itself is formulated from a rubber compound that remains flexible in sub-zero temperatures so the wipers will clear the windshield effectively in virtually all winter conditions.
So at your next schedule service at North Shore Mazda, should a new set of wiper blades be recommended, consider not whether they're operating properly today, but rather how long they've been on your vehicle as well as how important a clear vision of the road in front of you in inclement weather, and you'll make the right choice. And give a thought to Mary Anderson the first time you switch them on.